Mon 23 Jul 2007
A Success Story
Motorscooterists in the Los Angeles area are blessed with access to excellent maintenance service. Rich (Scooterdoc) Proffitt runs a mobile scooter repair service out of Pasadena. Specializing in newer Vespa models, he will maintain your scooter at your location or will cart it off to his workshop.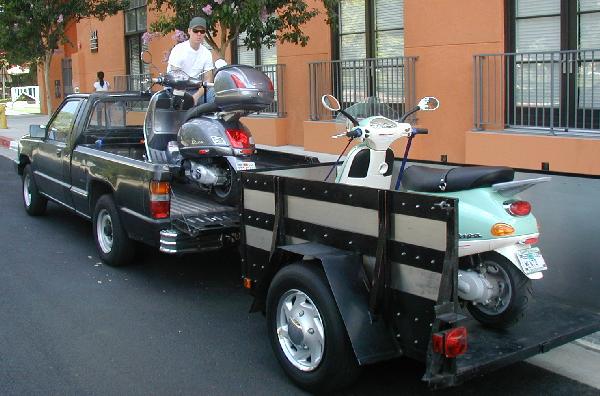 I had been to a number of mechanics with my scooter which had been losing power when starting up from a stop or suddenly accellerating. Carburetor issues were considered but nothing was found. I was dispairing of ever getting my beast running properly again.
Rich took it off in his trailer and played with it for a while, looking for the problem. He found it! It was an almost-but- not-quite severed ring terminal to a grounding wire which metal fatigue had caused to give way. He had been able to hear the arc and then, by running the engine in the dark, was able to see it and find the flawed connection.
Rich has been working on and riding scooters for years and I recommend his work highly. See The Scooterdoc page.
---
One Response to " The Scooterdoc, a success story "
Comments:
Trackbacks & Pingbacks: